Our services include Search Engine Optimization (SEO) which is the process of improving your web presence in order to rank higher on Google search results and generate more online leads. To put it simply; SEO helps consumers find your website and business listings and influences them to make initial contact with your company. Once you have a lead (i.e. phone call, email, contact form submission) a sales conversion becomes more probable. Our team of webmasters uses the most up to date SEO methods to drive relevant traffic to your website and other digital entities (i.e. Google My Business).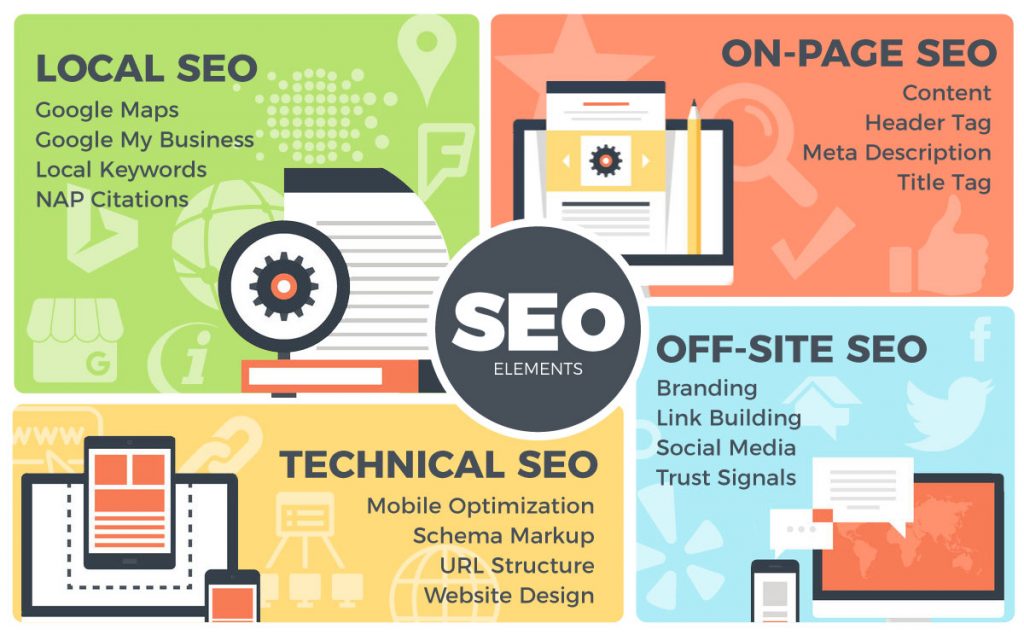 The SEO Process in 6 Steps:
#1 Keyword Research
We identify keywords that are more relevant to your business and service area. Using tools like MOZ & SEMRush, we investigate the greatest opportunities for your website. Things we consider include:
Search Volume
Keyword Difficulty
Keyword Relevance
#2 SEO Strategy
After researching keywords, we develop an SEO strategy that will later be implemented by skilled webmasters. The goal of a strategy is to pre-determine the best course of action, so that it can be executed without hesitation. A strategy consists of:
Page Lists
Target Keywords
URL Hierarchy
#3 Technical SEO
The foundation of a site's SEO starts in its back-end code. Using design elements like schema markup, we help Google parcel your site's data and understand exactly what services you offer and where you offer them. Aspects of technical SEO include:
301 Redirection
Crawling & Indexing Optimization
Schema Markup
#4 On-Page SEO
Our SEO experts get to work optimizing each page of your website. There are several on-page elements that make a difference in its ability to rank. The collective influence of all these tasks has a greater impact than that of a single action. On-Page SEO includes:
Content
Header Tags
Image ALT Text
Keyword Placement
Meta Descriptions
Title Tags
And More
#5 Local SEO
Google Maps is one of the greatest sources of leads for contractors. That's why we claim and optimize your Google My Business listing to show up on the Local Map Pack. When users within your service area search for a relevant term, your website should pop up on Maps results. Local SEO involves:
Google Maps Placement
Google My Business Optimization
Website Contact Information
#6 Off-Site SEO
Optimization efforts expand beyond your primary website and extend to 3rd party web entities like social media platforms and business listing directories. Google assesses the trust of a company based partially on who associates with it via inbound links. Off-Site SEO includes:
Inbound Link Building
NAP Citations
Social Media Profiles
What Makes HVAC Plumber Marketing Different?
We don't use a lot of buzzwords when describing our SEO process, instead we just provide the best services that are proven to work over time. How do we know this? Because we have hundreds of contractors enjoying success with these very methods. While we acknowledge what works for our current clients, we also understand that Google constantly updates their algorithm. That's why we stay informed on the latest changes and progressions at all times. We pride ourselves in staying one step ahead of your competitor's website, so that you not only establish lead generating Google rankings, but you sustain them for decades to come. SEO is a long-term asset that can serve your business well both financially and practically. We look forward to discussing our partnership with you, and answering any questions you have.
With a team of webmasters who are diversely skilled, there's no aspect of SEO that is foreign to us. From content writers to optimization specialists, we cover the full gamut of search engine optimization for contractors. Once combined with our other skill sets like web design, reputation management, and even PPC advertising, we can take contractors throughout the United States to heights they haven't seen before. There's strength in numbers and our team of experts will always outperform the work of a single marketer. You can rest assured that we have your company's best interests in mind, as evidenced by our hundreds of satisfied contractor clients throughout all corners of the nation. Call 806-414-1313 to speak with an Authorized Dealer.