Local contractors who market online will get a significant portion of their leads from Google Maps. HVAC Plumber Marketing ensures optimization of each of our clients' Google Maps listing. We do this by claiming and optimizing your Google My Business listing, and streamlining the process of address verification. As a company that serves local businesses, we understand what it takes to rank on the Local Map Pack as well as organic results for local search queries.
We connect your GMB listing with your custom website so that Google perceives them as connected, and boosts your results of local queries. Prior to the internet, consumers would search for local contractors using the Yellow Pages. Today, that process has been replaced with a Google search, and Google Maps becomes the modern-day business listing. Once your listing becomes visible, it's critical to have accurate contact information, often referred to as NAP (name, address, phone number).
The Local Mapping Process in 5 Steps:
#1 Claim Your Google My Business Listing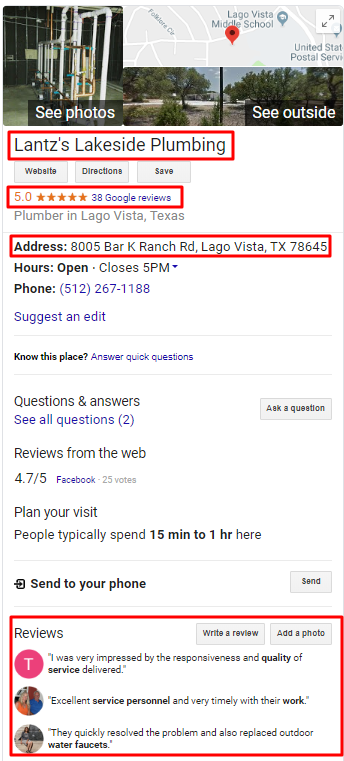 Depending on how long you've been in business, you may or may not have a pre-existing GMB listing. If you have one, we make sure to claim it so that we can optimize it for superior results. If you don't have one, we create one on your behalf, and then follow the same process afterwards. Once you have control over your Google My Business listing, you can do many things to optimize it for user experience as well as SEO.
#2 Verify Your Google Maps Address
Maps & My Business are interconnected. To show up on Maps, you must have a verified address on your Google My Business page. This can be done through postcard verification where Google sends a postcard to your business address which contains a code that can be used to verify your business online. Once verified, you'll receive a map marker on Google Maps.
#3 Optimize Your Google My Business Listing
Now that you have a GMB listing and a Google Maps marker, you can optimize your listing for SEO and user experience. Since local searches often yield results known as the Local Map Pack, it is critical to show up in the top 3. This is accomplished by inputting accurate contact information and linking the profile to your company website. To enhance user experience, you'll want to add company photos, hours of operation, Q & A's, etc.
#4 Generate Customer Reviews
For a GMB listing to have appeal to the consumer, it must have several high quality reviews. Google Reviews build trust and help listings rank higher in the Local Map Pack. We help our clients generate reviews using our native plugin; Righteous Reviews. This plugin goes on the bottom of your website and allows a satisfied customer to leave a positive Google review, directly from your site. This makes the process more convenient for everyone and therefore makes the volume of reviews higher.
#5 Localize Your Website
Every company website should have local contact information on the homepage, and ideally, on every page (within the footer). That's why our design team implements them on each client website. We make sure that visitors know exactly how to get in touch with you and exactly where you are located. We even connect your Google My Business listing with the website to ensure that Google associates the two entities with one another.
Call 806-414-1313 for Local Mapping Services from HVAC Plumber Marketing